ROBOTS
& PIRATES
THE DANIELE FRAZIN FINLEY FOUNDATION

MISSION: To provide emergency support to young adults in the Twin Cities.

When Daniele died, Rachel and Mike made a commitment to do what they could to help other people in the same kinds of trouble.

Daniele died, Rachel and Mike made a commitment to do what they could to help other people in the same kinds of trouble.

"Robots vs Pirates" was the theme of one of Daniele's best parties. (She threw great parties.) Her running joke the last few weeks was that she was "searching for robots." She meant art for a tattoo. Robots were not clunky machines to her, but humans with all the feelings humans have, and who happened to live in tinfoil-covered cardboard boxes. Pirates were, well, pirates.

Think of us as an alternative set of parents. People you can talk to, who are outside the life, who know how hard things can get, and who have some understanding of issues like depression, anxiety, and how to change. Rachel is a nurse practitioner with lots of experience in counseling and psychiatry. Mike is a writer about psychology and change.

We're not quite sure what to do, or how to do it. But Robots & Pirates wants to be a resource to people who are hurting and need someone to talk to.

Contact us by email ( mfinley@mfinley.com ) or by phone (651) 644-4540.

We're not mean, we're not hyper-religious, and we don't know all the answers. But we want to stop the dying, and we are here to try.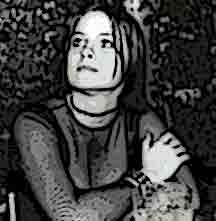 At the time of Daniele's death, we asked that people give memorial donations to the Animal Humane Society. People also gave us a basket of cash at the funeral and in the mail. And on September 27, a benefit was held at the Triple Rock that raised about $1800. And we have sold almost 30 copies of ZOMBIE GIRL , Daniele's graphic fable-biography. So we have an "endowment" of slightly over $2,000.
We hope to have some emergency cash on hand for people who are suffering from "life anxiety" the way Daniele did.
We are not currently a 501(c)3 corporation, but that could change.
If you know someone who is in trouble, email us . We will want to meet before writing a check.
We will also accept new contributions from people and organizations wanting to help in this effort.
There are so many theories and ideas regarding dealing with and treating depression and stress relief. Some deeply believe in meditation as way to connect with your spiritual self and that by developing certain meditation techniques one can find a certain amount of peace. Many authorities are solidly behind drug therapy, and then there are those who would recommend a mixture of meditation and drugs. These may work in time, but nothing replaces the immediate support you need in a time of crisis.